EU aims to solve its Greek 'elephant'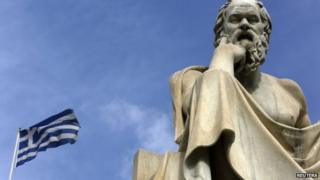 It is, in the words of one senior EU diplomat, "the elephant in the room".
The dispute between Greece and its international creditors is not on the formal agenda of this week's EU summit, but it is currently the most pressing issue in town.
And it will be discussed at length in the margins.
European Council President Donald Tusk is to hold a separate meeting late on Thursday evening with the leaders of Greece, Germany, France, the European Commission and the European Central Bank (ECB), as well as the chairman of eurozone finance ministers.
The aim is to break the deadlock that has developed between Greece and its creditors about the terms agreed last month for an extension of its huge financial bailout.
As time has dragged on, concern has risen that Greece could soon run out of money. There is only a matter of weeks left before another "crunch" comes.
"Things now need to move at pace," the EU diplomat said. "The risk of an accident has risen."
The war of words between the two sides also shows no sign of dying down.
Greek Prime Minister Alexis Tsipras was certainly in defiant mood in parliament on Wednesday when he defended a new "humanitarian crisis law" which was approved overwhelmingly, despite warnings from the European Commission that Greece should not act unilaterally.
"If they're doing it to frighten us," Mr Tsipras said, "the answer is - we will not be frightened."
The European Commission among others was not impressed.
"We completely support the objective of helping those who are most vulnerable in Greek society," said EU Economics Commissioner Pierre Moscovici.
"But there must be consultations on new measures. We have to be able to evaluate the budgetary impact."
One senior Greek official closely involved in talks with the creditors told the BBC that Mr Tsipras had asked for the high-level political meeting on the sidelines of the summit because Athens believes the EU/IMF technical teams are trying to draw back from the terms of the agreement made last month.
"We feel there has been slippage," the official said, "and that they are trying to go back to the old terms."
"So we need a discussion to make sure we are given the financial and liquidity space to carry out the reforms we want to carry out."
Eurozone governments have said they will not give any more emergency loans to Greece until it implements previously agreed reforms.
Mr Tsipras's government, on the other hand, has promised to meet its obligations at the same time as it brings many austerity measures to an end.
"None of my colleagues, or anyone in the international institutions, can tell me how this is supposed to work," German Finance Minister Wolfgang Schauble said in Berlin on Monday.
He accused Greek leaders of "lying to the people".
So it seems pretty clear that there are very different interpretations of what was agreed last month, and time to resolve a dangerous impasse is running short.
"We've had no financing from any source since August," the senior Greek official said, "and the ECB has taken a very tough line with us. We need a high-level meeting to sort all this out."
At least they are talking. But no one is taking anything for granted.