Dublin anti-water charges rally: Over 30,000 people at protest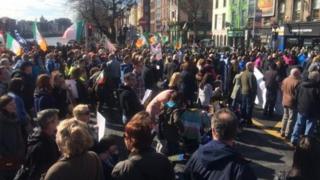 More than 30,000 people have protested in Dublin against the introduction of household water charges across the Republic of Ireland.
The demonstration is the fourth organised by the Right2Water group.
The protest has taken place just days before the firm Irish Water is due to issue the first household water bills.
The introduction of the domestic water charges were a key condition of the Republic of Ireland's international financial bailout deal in 2010.