Gun attack on Istanbul police HQ in spate of violence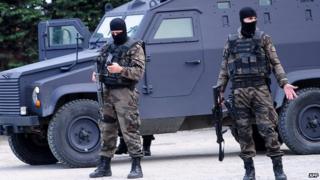 Police have killed an armed woman assailant and wounded a gunman who opened fire outside Istanbul's police headquarters, the city's governor says.
The wounded man is said to have been captured. Earlier an intruder was arrested at district offices of Turkey's ruling AK Party.
On Tuesday two members of a Marxist group took a prosecutor hostage at an Istanbul courthouse. All three died later in a shootout with police.
The banned DHKP-C claimed that attack.
Governor Vasip Sahin said that in Wednesday's attack, the woman assailant was carrying a bomb. At least one police officer was injured in the clash.
TV footage showed the dead woman lying on the road near the police building.
High-profile funeral
Earlier on Wednesday hundreds thronged to the funeral of prosecutor Mehmet Selim Kiraz at the courthouse where he was shot dead.
He had been investigating the death of a teenager who was hit on the head by a police tear gas canister during anti-government protests in 2013.
The DHKP-C revolutionary group said their militants had acted to avenge the death of 15-year-old Berkin Elvan.
Before the fatal shootout, the hostage-takers said the police blamed for Elvan's death must confess and be tried by "peoples' courts".
At the prosecutor's funeral, Justice Minister Kenan Ipek called the attack "a gun directed at our nation".
"We don't see this as an attack on our deceased prosecutor, but on the whole justice system," he said.
His funeral later moved to the city's Eyup Sultan mosque, where Prime Minister Ahmet Davutoglu and ex-President Abdullah Gul were among the mourners.
At least 19 members of the DHKP-C were detained in the southern city of Antalya on Wednesday, but it is not clear if this was connected to the hostage-taking.