Dublin gang attack: Man feared he would be set on fire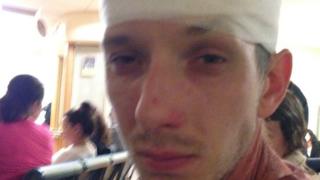 The family of a man with special needs who was told he would be set on fire during an attack in Dublin have said they believe five youths were involved.
Paul Deaton, 31, needed stitches and staples in a large head wound after he fell and hurt himself when he was tripped up.
The attack happened in a public park in Dublin, and it was initially believed three teenagers were involved.
However, his sister, Linda, said five youths aged 14 to 18 were responsible.
She said that friends and well wishers have been calling to see her brother but he has been left traumatised.
"Paul doesn't want to go out ever again. He is living in fear that these people will get him again," she said.
The family said Paul left his home to go to Fairview Park at about 19:00 BST on Wednesday to look at JCB's near the end of the park.
"Paul loves tractors and diggers and he was taking pictures of them on his phone," Linda said.
When the youths approached him they "tried to hit him and bully him and he tried to get away a number of times", his sister said.
"He was kicked and eventually he got away but not before one of them tripped him to stop him. They laughed at him and took out their phones to take pictures of him," she said.
The family have appealed for anyone with information to come forward. Linda said one of the youths had a bicycle. One was wearing a grey top, another had a black jumper and a third was possibly in a red jumper.
The police confirmed they were investigating the incident.