Water charges: Thousands of people join Dublin protest march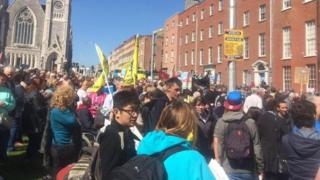 Thousands of people have marched through Dublin city centre to protest against newly enforced water charges in the Republic of Ireland.
They marched from the Garden of Remembrance to Leinster House on Saturday afternoon.
Irish state broadcaster RTÉ said that about 10,000 people took part in the protest.
There were banners and flags from areas including Dublin, Cork and Kilkenny.
Irish Water began to issue the first household water bills on 8 April 2015.
The introduction of the domestic water charges were a key condition of the Republic of Ireland's international financial bailout deal in 2010.