Joan Collins: Actress tweets to say she was not arrested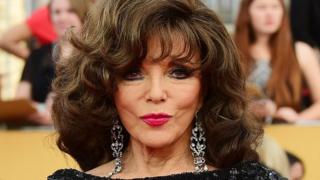 Actress Joan Collins has taken to Twitter to deny that she was arrested in the Republic of Ireland.
Instead, it was her namesake, Irish politician Joan Collins, who was arrested at a protest against new water meters in Dublin yesterday.
The former Dynasty star tweeted: 'No I am not the Joan Collins Who was a rested (sic) yesterday At a Dublin protest meeting !!! The very idea !!"
United Left TD Ms Collins said she was taking part in a "peaceful protest".
She later tweeted that she should not be confused with the British screen icon.
"For the record I'm not @JoanCollinsOBE as I'd never take an honour from a monarch nor did I wear shoulder pads in the 80s. The very idea!"
Veteran actress Joan, 81, was made a dame in the Queen's New Year's honours list last year.
She is famous for her roles in films like The Stud and The Bitch, and more recently starred in the TV series The Royals.
She was previously a patron of UKIP, but said that does not mean she would vote for them, and has declared herself an admirer of former prime minister Margaret Thatcher.
Irish parliamentarian Ms Collins sits on the opposite end of the political spectrum.
She was among 13 people arrested at the demonstration, which was part of continuing protests against the introduction of water charges in Ireland.