Serbian scare on president's plane after coffee spill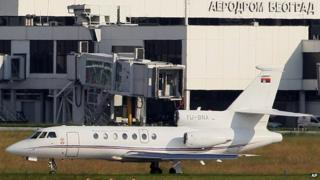 A Serbian inquiry has found that the president's jet went into a sudden plunge on a flight to Rome last week when the co-pilot tried to mop up a coffee spill.
President Tomislav Nikolic and other passengers were reportedly thrown around the Falcon 50's cabin before the captain managed to regain control.
Coffee was spilt on the control panel and the co-pilot mistakenly disengaged the autopilot when trying to mop it up.
The jet later turned back to Belgrade.
President Nikolic had been heading to Rome on 17 April for a meeting with Pope Francis.
Co-pilot Bojan Zoric has been suspended after the inquiry found he had "accidentally activated the emergency switch". That caused the plane to plunge from a height of 34,000 feet (10,303m).
One of the Falcon's three engines shut down because of the sudden drop in altitude, but it was quickly restarted.