Gary O'Flynn: Ex-politician jailed for triple murder hitman plot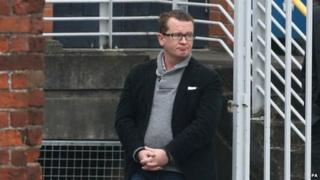 A former politician from County Cork has been jailed for trying to get a hitman to murder a detective, a tax official and an accountant.
Gary O'Flynn, 39, of Hayfield Drive, Castlecourt, Whitechurch, was sentenced to five years, two of them suspended.
The former Fianna Fáil councillor pleaded guilty in February to soliciting a man to kill three people.
He also received a three-year sentence to run concurrently for fraud charges.
These relate to obtaining mortgages while he was working as a financial adviser.
O'Flynn was a member of Cork City Council between 2003 and 2008.