Germany Tugce Albayrak death: Defendant sobs in court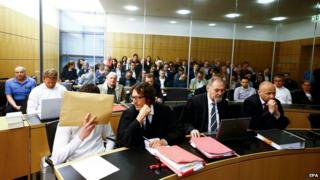 The 18-year-old accused of causing the death of student teacher Tugce Albayrak in 2014 has cried at his trial in Darmstadt as he admitted hitting her.
The young woman was attacked in the car park of a fast food outlet after she had defended two teenage girls who were reportedly being harassed.
She fell into a coma and died of her injuries on her 23rd birthday.
Sanel Masovic told the court he was very sorry for what he had done. "I never thought she would die," he said.
Mr Masovic is on trial in a juvenile court, accused of bodily harm with fatal consequences.
On Friday he told the court he had slapped her round the head and she fell.
"I can't imagine the pain and suffering I inflicted on her family," he said.
Following her death Tugce Albayrak - who was of Turkish descent - was praised as a role model by German President Joachim Gauck.