Murdered student Karen Buckley's funeral is held in County Cork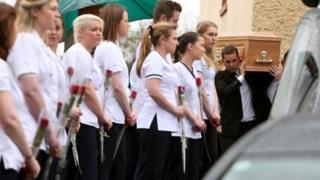 The funeral for Irish student Karen Buckley, who was murdered in Glasgow earlier this month, has taken place in County Cork.
Crowds who gathered at Analeentha, heard that she was "too young to die".
Ms Buckley, 24, a nurse and student, went missing following a night out at the Sanctuary nightclub in Glasgow on 11 April.
Her body was found at High Craigton farm, near Drymen, four days later.
Alexander Pacteau, 21, from Glasgow, has appeared in court charged with her murder.
Her funeral Mass was held at the Church of St Michael the Archangel in Analeentha on Tuesday with burial at St John's Cemetery in Burnfoot.
Requiem Mass was celebrated by 20 priests. Commandant Kieran Carey represented the Irish prime minister.
Irish minister Darragh Murphy and the lord mayor of Cork Mary Shields were also present.
Representatives of the Scottish police force were also at the funeral.
The crowd who packed the church heard parish priest the Reverend Joe O'Keefe say that her death seemed "utterly inappropriate".
"Twenty-four years simply does not seem the right time to die - it does not seem to add up," he said.
"Karen was a young woman, a friend. To her family she was a cousin, a niece, a sister-in-law, a sister, a daughter, a child.
"It is most difficult then for them, but in particular for Karen's parents, John and Marian, to associate the cradle to the coffin.
"One represents the beginning of life and the other represents the end. And it is doubly sad when the two are so closely linked."
Ms Buckley moved to Glasgow in February to study occupational therapy at Glasgow Caledonian University. She lived in the city's Garnethill area.
She was an only daughter. Her parents and brothers brought her body back to her native Cork on a specially commissioned flight from Glasgow at the weekend.