Receivers take possession of Gorse Hill mansion in Killiney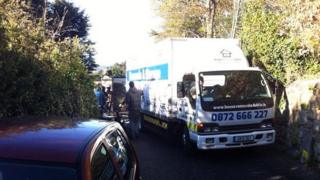 Receivers have taken possession of Gorse Hill mansion in Killiney after Irish solicitor Brian O'Donnell tossed over the keys to Bank of Ireland chief executive Richie Boucher.
Mr O'Donnell dropped the keys on the table at the bank's AGM in Dublin.
Earlier, he and his wife Mary vacated Gorse Hill ahead of a noon deadline.
The Supreme Court of Ireland has refused the O'Donnells permission to appeal a decision that they do not have the right to live in the house.
The mansion is at the centre of a legal dispute involving more than €70m (£50m) in debts owed to Bank of Ireland.
A removal truck left the property on Wednesday.
The O'Donnells had effectively barricaded themselves into the house in February to stop a bank repossession.
They had made a settlement with Bank of Ireland in 2011, in which the mansion was used as security for bank loans.
Earlier this month, the Court of Appeal ruled they do not have right of residence in the house.
The judge upheld an earlier High Court ruling that the bank was entitled to an injunction directing Mr and Mrs O'Donnell to leave the property.
When he arrived for the Bank of Ireland AGM on Wednesday, Mr O'Donnell said he was disappointed with the Supreme Court decision on Tuesday.
He said he was hopeful that he and his wife would be back in Gorse Hill in the future and that they were intent on taking their case to the European Court of Human Rights.