Kestrel shooting ends Malta spring hunting season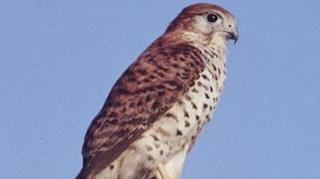 Malta has brought its controversial spring hunting season to an early end, after a local man was jailed for shooting a protected bird.
On Tuesday Kirstin Mifsud, 24, was jailed for a year and fined €5,000 ($5,570; £3,600) for killing a kestrel.
The bird landed in a school playground near the capital Valetta.
The hunting season had opened on 14 April, just days after the pro-hunting lobby narrowly won a referendum on whether it should continue.
Malta is the only European Union country that allows recreational spring hunting. It has two exemptions in place from the EU directive that regulates bird hunting across the EU.
These allow the Maltese to hunt turtle doves and quail in the spring, but only under strict regulations.
Conservationists argue that some hunters shoot other protected species and that the two that are legally targeted are migrating to breed as they pass over Malta into Europe.
Some 45,000 Maltese signed a petition last year to hold a vote on whether to ban the spring hunting season. The proposed ban was narrowly rejected in a referendum earlier this month.
But after the shooting incident involving the kestrel - a bird of prey related to the falcon - Prime Minister Joseph Muscat decided to end the season three days earlier than scheduled.
---
Bird hunting in Malta
Spring hunting limit set at 11,000 turtle doves and 5,000 quail
Spring hunters are not allowed to kill more than two birds a day and are limited to four birds per hunter in the whole season
Licensed hunters must apply for special spring hunting licence; required to declare every time they make a kill
Hunting fines are a €5,000 fine for a first offence, a year in prison and licence revoked. Secondary offences are a €10,000 fine and two years in jail
Spring hunting season now closed
---