MH17 crash: Remains found in Ukraine nine months on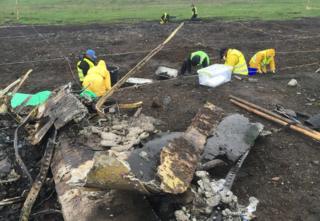 Nine months after flight MH17 was shot down over rebel-held territory in eastern Ukraine, the recovery mission is now coming to a close.
A team of 20 Dutch and four Malaysian military police have been searching for more human remains, and any personal belongings of the 298 people who died.
In recent days, forensics experts have found a significant amount of human bones at the site of a large explosion, where the fuselage of the plane came down.
The Dutch-led mission is now hopeful that it has found some of the remains of the only two passengers who have still not yet been identified.
However, this will only be confirmed once DNA tests are carried out.
---
Angry relatives
Daisy Oehlers and her boyfriend Bryce Fredriksz, from the Netherlands, were travelling to Bali for a holiday.
So far, only small pieces of Daisy's hip bone have been recovered and returned to her family.
Daisy's cousin, Robby Oehlers, who travelled to Eastern Ukraine just weeks after MH17 was shot down, is frustrated by how long the recovery mission has taken.
---
Rings and passports
The bones found over the past two weeks will be returned to the Netherlands in seven coffins this weekend.
Personal belongings of the passengers, including watches, rings, driving licences and passports, have been found during the latest search.
Other possessions, that were collected from the crash site by local residents last year, have also been given to the Dutch mission, so they can be passed on to the relatives of the victims.
Dutch officials say their work was delayed because the ground was frozen during the long winter in Ukraine, and because they were unable to access the region safely because of the war.
---
Dutch reporter who tried to solve MH17 crime
Air disaster that touched a nation
---
The wreckage of the plane was spread over an area of approximately 70 sq km (27 sq miles). After gains by pro-Russian forces in recent months, the frontline has moved further away from the site, making it safer for the recovery team to work at the site.
A separate international mission, which is investigating who was responsible for the shooting-down of the plane over rebel-controlled territory on 17th July 2014, released a video last month in Russian appealing for witnesses.
The team is expected to release a report on their findings later this year.