North Korean leader 'will not attend Russia WW2 events'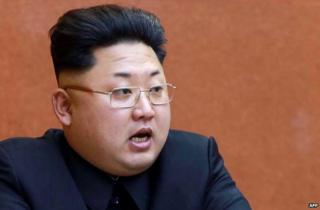 Russia says North Korean leader Kim Jong-un will now not attend Moscow's World War Two commemorations despite claims he had accepted an invitation.
Kremlin spokesman Dmitry Peskov said Mr Kim had decided to stay in North Korea due to "internal issues".
It follows reports that Mr Kim recently ordered the execution of 15 people, including several top officials.
The trip would have been his first overseas visit since taking power in North Korea in late 2011.
The Kremlin said in January his presence at the WW2 anniversary celebrations in Moscow in May had been confirmed - but North Korea never gave an official statement.
On Wednesday, Mr Peskov told reporters that Mr Kim would not be attending after all.
Criticism over Ukraine
It is 70 years since the Soviet and Allied armies defeated Nazi Germany in 1945.
The Russian government has sent dozens of invitations to foreign leaders to its commemorative events.
But many will stay away from the 9 May Victory Day parade amid criticism over the country's actions in eastern Ukraine.
Chinese and Greek leaders are expected to attend.
Meanwhile the Czech President Milos Zeman and Slovakia's Prime Minister Robert Fico have said they will take part in Moscow's commemorations, but skip the military parade.
Germany's Chancellor Angela Merkel will not be there for 9 May, but will visit the following day.
'Spies executed'
Observers had said that if Kim Jong-un chose to visit Moscow, before having visited Beijing, it could have been seen as a sign of growing distance between China and North Korea.
Kim Jong-un's father Kim Jong-il, the former leader who died in December 2011, visited Russia in August 2011, but paid more regular visits to China, which is seen as the North's closest ally.
His visits were never announced ahead of his departure.
South Korean intelligence officials said on Tuesday that 15 people, including several top officials, had been executed in North Korea on spying charges this year.
Those killed included two vice ministers who challenged Mr Kim over his policies and members of an orchestra, they said.