Patrick Honohan: Central Bank governor to retire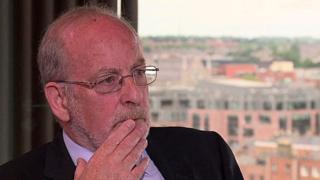 The governor of the Central Bank in the Republic of Ireland has announced plans to retire before the end of the year.
Patrick Honohan said he wanted to give the Irish government six months to find a replacement, before he leaves in November.
Speaking at the launch of the Central Bank's annual report on Friday, he said there were no rows about his decision to retire.
The Irish Prime Minister Enda Kenny has paid has tribute to his work.
He said Prof Honohan had a very difficult job to do and had approached it with dedication.
Patrick Honohan was asked to overhaul the country's financial regulator system after reckless bank lending and several scandals destroyed the reputation of its Celtic Tiger economy.
Mr Honohan has not ruled out the possibility of writing a book on the banking crisis and his time as Central Bank governor.