Woman loses symphysiotomy High Court action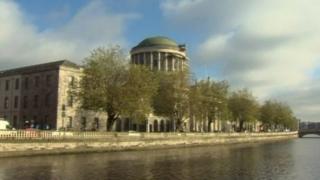 A woman who suffered life-long pain after a symphysiotomy procedure performed on her before the birth of her baby has lost her High Court action in the Republic of Ireland.
Symphysiotomy is the surgical procedure to break the pelvis during childbirth to allow a baby to be born.
In what was viewed as a test case for others, the 74-year-old had sued for negligence.
But a judge said it "was not a practice without justification" at the time.
The woman claimed there was no justification for the controversial procedure carried out on her in 1963.
She said she could not bond with her baby and had a nervous breakdown as a result of the procedure, performed on her 12 days before she gave birth.
The judge at the High Court in Dublin said it was a controversial practice but it was also strongly defended, and the strength of the defence made it impossible for the woman to prove her case.
He described her as a remarkable woman whose story deserved to be told, but said he had to find her case must fail.
He said that whether as a result of the timing of the symphysiotomy or otherwise, she did suffer and indeed continued to suffer consequences throughout her life.
But he added that every common medical procedure must once have been unprecedented and may well have been controversial.
He said the hospital notes in this instance indicated that doctors were convinced that a vaginal delivery would not be possible.
As a result, they proceeded on a course of symphysiotomy, which they had reason to believe at the time was not generally harmful to the mother and was safer for the child.
Marie O Connor, a spokeswoman for Survivors of Symphysiotomy, said afterwards that it was a "devastating outcome" and highlighted the need for a full and independent inquiry into the practice.
Mark Kelly, of the Council for Civil Liberties, said the onus should not be on elderly women to convince the judge that they have suffered permanent damage.
"The onus is on the state to carry out an independent inquiry to explain to women why this practice, which had been banned in other jurisdictions, was re-introduced here," he said
"Yet again, dragging women through the courts is not living up to its human rights responsibility."