Waterford: Irish water vehicles damaged in suspect fire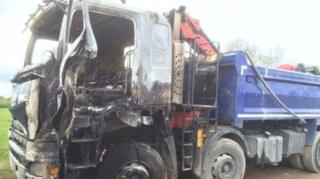 Three vehicles used by Irish Water have been destroyed in a suspected arson attack in the Republic of Ireland.
Damage estimated at 100,000 euro (£74,338) was caused in the blaze at a contractor's yard at Lacken Road, Waterford.
The fire was started on Tuesday night.
A white tipper truck was destroyed. Two trailers with mini diggers were also damaged. The company that owns the vehicles is employed by Irish Water.
Police have begun an investigation.