VE Day tributes to family heroes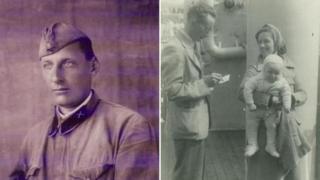 Commemorations are taking place for the 70th anniversary of VE Day - the end of World War Two in Europe.
People have been sharing their photos and stories of loved ones caught up in the war.
Here is a selection of their stories.
---
Martin Magnago shared his photo, (above left), of his grandfather in uniform.
"My mother was 13 when she last saw her father and no one knows what happened to him.
I am both proud and sad about someone I have never met."
Jim Duffield, was just a babe in arms (above right) during the war.
"I was returning to Jersey from a Nazi camp.
My parents were long time residents in Jersey when the Germans occupied the island.
The US Army Air Force carried us back to UK.
We were sent to Bridge of Weir in Scotland as refugees for fattening up - mum was then under 40kg (88lbs) - and then back to Jersey."
---
Tina Sorensen has love letters belonging to her grandfather.
"My grandfather had to return to Denmark because of the war.
Niels met Molly in 1939 in London and they kept in touch until the 1970s.
The letters also include Red Cross telegrams.
They give that little extra insight into the daily life of living during the war, alongside two young sweethearts pining for each other."
---
Viacheslav Trundaev has this photo of his uncle, Larichev Vasil Ivanovich, an artillery officer who was killed in 1943.
"He participated in the war from the summer of 1941.
He was injured and transferred to an artillery school to a position of instructor.
But he later requested to be sent back into active service.
He was killed in spring 1943 not far from Stalingrad.
I'm proud of my uncle."
---
Maggie Thompson has this picture of VE Day celebration in Bury St Edmunds in 1945.
"I recently found it in one of my father's photo albums.
He was a navigator in the RAF and served in the Far East where the war continued until VJ Day."
---
Mike Burt found this photo among his father, John's, effects when he passed away this year at the age of 92.
"It's a shame dad did not make it to this day as he would have enjoyed the moment of the 70 year anniversary of VE day and revival of their exploits."
Grandson, Adam Burt, explains the story.
"My grandfather took it upon himself on VE Day, to climb the gates at Buckingham Palace and temporarily borrow a crown that was attached to a lamp post while all the celebrations where going on.
With his new trophy in hand (temporarily borrowed of course), he and his fellow dentist students at Guy's Hospital decided to have a little ceremony, by crowning the statue in the photo above."
---
Robert Stephens sent in this photo of his parents Ivy and Edwin, who were married on VE Day. Ivy, who is now 90, says they met when they were just 16.
"We got engaged at about 17 and he went off with the Navy not long afterwards. I only saw him when he was on leave. I used to go up to Liverpool to see him when they docked.
When we decided to set the wedding day we had to get permission from the vicar and our parents because we weren't quite 21. We set the date, which then turned out to be VE day. On our wedding day the bells were ringing - the first time we'd heard them since the war started.
Afterwards, he went back overseas and I got the occasional letter from him. He died in 1994. I've been watching the commemorations with a tear in my eye."
Compiled by Andree Massiah and Sherie Ryder