Austrian postal staff give out dog biscuits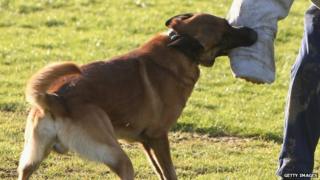 The Austrian postal service has started giving its workers dog treats to help them deal with aggressive hounds as they deliver mail.
The decision to give the 9,000 workers a bag of dog biscuits to take with them each day was made after 47 of them were bitten last year, its spokesman says.
"Every bite is one bite too many," Michael Homola told NBC News.
One postal worker, Maria Stocker, is quoted by state media as saying the treats were making a difference.
"The dogs are now nice,'' she commented.
Dog owners have also welcomed the move, according to Austria's The Local website.
"Our dogs will certainly be pacified if they're given treats and then they're less likely to be aggressive," dog owner Maximilian Pfeifenberger told the news outlet.