Russian bear attack: Woman 'in critical condition'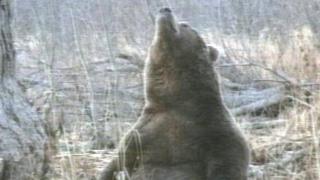 A woman is critically ill in hospital after being attacked and seriously injured by a bear in the far east of Russia, newspaper reports say.
Natalya Pasternak, 55, was gathering wood in a forest near Tynda in Amur region when the attack happened.
Some reports say that the bear thought she was dead and tried to bury her so that it could return to its prey later.
Rescuers shot the bear after they rushed to the scene and it also began attacking them, reports say.
The Siberian Times reported that they found post office worker Ms Pasternak after noticing her bloodied hand protruding from underneath a pile of undergrowth. They cleared it away to discover that she was still conscious despite the severity of injuries to her head and thighs.
The attack happened on Monday, Russian media reported. A second woman managed to escape and call the emergency services.
Wildlife expert Sergei Ivanov told the government daily Rossiiskaya Gazeta that he had shot the adult female bear immediately "when it leapt towards us out of a ravine, in a rage".
"Nearby we found the woman, which the bear had already managed to cover with earth. She was conscious, with many wounds on her body, and the bear had scalped her."
Reports say the bear initially attacked the women's dog.
A tissue sample from the dead bear has been sent to a lab to determine whether an infection is responsible for its unusually aggressive behaviour.
Residents of Tynda have spotted bears on the town's outskirts occasionally in the past, reports say.
There were several reported bear attacks in Russia's far east last summer - with at least three people killed in different attacks blamed on a combination of factors connected to the region's volatile climate which can range from record high temperatures to flooding and freak snow and hailstorms.
The Interfax news agency said that the animals are more hungry because nets have prevented salmon from swimming up rivers to spawn, leaving bears without regular food.