Dublin-Monaghan bombs: Wreaths laid on 41st anniversary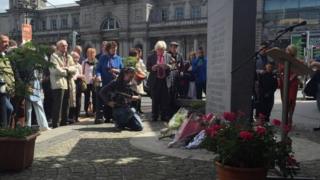 A ceremony to mark the 41st anniversary of the Dublin and Monaghan bombings has taken place in Dublin.
Thirty-three people, including a pregnant woman, were killed and almost 300 people were injured when the bombs exploded without warning in 1974.
It was the greatest loss of life on a single day during the Troubles.
Relatives of the dead and survivors of the bombings repeated their calls on the British government to release documents about the attacks.
Three bombs exploded in Dublin on 17 May and one in Monaghan.
The Ulster Volunteer Force admitted responsibility for the attacks in 1993.