Mediterranean migrant crisis: Irish naval vessel rescues migrants off Libyan coast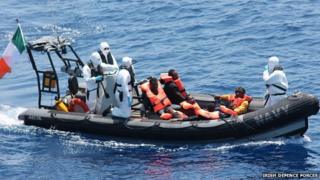 An Irish Naval Service vessel has helped to rescue 201 migrants off the coast of Libya.
The crew of LÉ Eithne worked together with Italian, German and British ships on the rescue operation 60km north of Africa on Thursday morning.
The migrants were trying to cross the south-central Mediterranean sea on five makeshift inflatable boats.
They included men, women and children, and were given them food, water and first aid by the LÉ Eithne crew.
The migrants will be transferred to the British navy vessel HMS Bulwark and will then be taken to a port in Italy.
The LÉ Eithne was sent by the Irish government to join the humanitarian rescue operation earlier this month.
The rescue was the crew's first since arriving in the Mediterranean, where they could be based for up to six months.