15,000 scouts and guides escape storm at French camp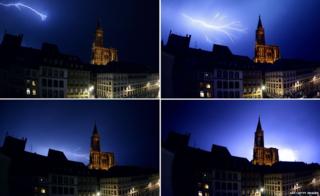 Thousands of teenage scouts and guides were evacuated from a camp in eastern France after a violent storm overnight.
The storm hit the camp organised by the Scouts and Guides France in the city of Strasbourg.
About 15,000 people were evacuated as authorities issued a warning of heavy winds.
Rescue workers said 14 people suffered "sprains, fractures or dislocations", but added there were no serious injuries.
Organisers received a warning from authorities half an hour before the storm hit at 02:00 (00:00 GMT), giving them time to move the scouts and guides to shelter in a nearby arena.
Images published by the newspaper L'Alsace showed extensive damage to the site and young people walking in thermal blankets.
The DNA newspaper said many of the teenagers had to flee bare-footed and in their night clothes.
The teenagers, from scout and guide associations from 29 European countries, were allowed to return to the site on Saturday morning.
There were no reports of significant damage elsewhere in the Alsace region after the storm.