European papers seek scapegoat over migrant crisis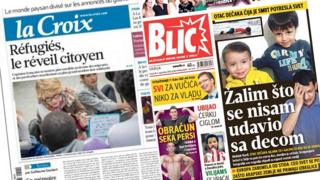 The European press continue to echo the shockwave of emotion prompted by a photograph of the body of three-year-old Syrian refugee, Alan Kurdi, which was washed up on a Turkish beach on 2 September.
And the problem of refugees who are battling with the Hungarian authorities, in a bid to reach the "promised land" of Germany, is adding fuel to the commentators' fire.
Sorrow
Many papers mourned Alan's death, while suggesting it could prompt European countries into action.
Guillaume Goubert writes in France's La Croix that the influx of refugees has become "so great that it can neither be stopped or ignored", and added that Alan's fate means "now, more than ever before, we must inform but also act".
In Serbia, one of the countries through which refugees must pass to reach wealthier EU states, Politika defended its decision to publish Alan's photo by insisting this was a true instance of a "picture telling more than a thousand words". Readers had suggested the image was "sensational".
Serbian tabloid Blic's front page is dominated by a photo of the boy's crying father. "I wish I had drowned together with my children," he was quoted as saying.
Blame
Several papers focus on Hungarian Prime Minister Viktor Orban's actions in dealing with the influx of refugees across his borders.
Keno Verseck in Germany's Der Spiegel was blunt. "Stupid, brazen, Orban", he wrote, accusing the Hungarian leader of "consciously allowing the refugee crisis in his country to escalate" for electoral purposes.
But Stefan Loewenstein in Germany's Frankfurter Allgemeine Zeitung was more charitable, saying Orban's actions revealed "the weak points of European - and German - refugee policy".
"You have to decide what you want to criticise Budapest for: for closing the borders or for opening them," he said.
Robin Alexander in Germany's Die Welt slammed the UK's inaction. "Britain's abstinence in the refugee tragedy is unbearable", he complained. He reminded readers that Great Britain has been a haven for refugees for centuries. "It should remember" its history, he chided.
Praise
Spanish daily El Pais said it seemed that Europe was finally taking the necessary steps to make the political changes the refugee crisis demands. It praised Germany for having "set the example for other countries to follow", saying the government of Chancellor Merkel deserved a great deal of credit for not having "shied away" from the problem. As a result, the paper felt, Germany's "moral authority" on this issue is irrefutable.
Meanwhile, the Hungarian press was unhappy with Hungary being blamed for the clashes between their security forces and desperate refugees. Centre-right Magyar Nemzet suggested "we need to accept that there will be no quick solutions to the refugee issue. If this were possible, someone would have come up with them by now."
And fervent Orban supporter, Zsolt Bayer, in centre-right Magyar Hirlap blasted German ZDF TV for a recent report on the situation in Budapest. He said it had deliberately set out to blacken Hungary's name and distort the facts. Bayer's piece is presented as an "open letter" to ZDF news editors, in which he presents them with a long list of questions, including: "How is it possible that no one at your channel has heard of the Dublin Convention?"
BBC Monitoring reports and analyses news from TV, radio, web and print media around the world. You can follow BBC Monitoring on Twitter and Facebook.