Turkey violence: How dangerous is instability?
29 June 2016

From the section

Europe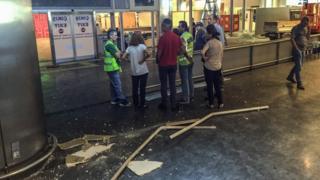 Turkey's biggest cities, Ankara and Istanbul, have been hit by a spate of deadly bombings. The latest, targeting Ataturk airport in Istanbul, is one of Europe's busiest transport hubs, attracting more than 60 million travellers a year.
For so long a beacon of stability between Europe and the Middle East, Turkey has entered a period of high tension, fighting Kurdish militants in its restive east and struggling to prevent Islamist militant violence spreading from across its border with Syria.
While they see Kurdish militants as the principal threat, Turks have now come under repeated attack from so-called Islamic State (IS).
---
How dangerous is the current crisis?
Five bombings in central Istanbul and four in Ankara in the past eight months have sent Turks a clear message that no area is immune from the violence and that they are being targeted on several fronts.
The Ataturk airport bombing, blamed on IS, is one of the deadliest in recent Turkish history and targeted foreign visitors as well as Turks. Since the start of the year, Kurdish and IS militants staged a succession of attacks on Istanbul:
Kurdish militant group TAK (Kurdistan Freedom Hawks) killed seven police and four civilians on 7 June, when it blew up a shuttle bus carrying riot police in the heart of Istanbul
The largest Kurdish militant group, the PKK (Kurdistan Workers' Party) targeted a bus carrying security forces in May
An IS suicide bomber killed three Israeli tourists and an Iranian on Istanbul's bustling Istiklal Avenue in March
Twelve German tourists died when an IS bomber blew himself up in Istanbul's Sultanahmet tourist area in January
Some of the bloodiest attacks have been in the capital, Ankara:
The Kurdistan Freedom Hawks group said it was behind a 13 March suicide car bombing, which killed 35 people at a transport hub close to Turkey's justice ministry and the prime minister's office
A short distance away, 29 were killed when military buses were targeted on 17 February. Among the victims were staff streaming out of government offices after work. That attack was also claimed by the TAK (Kurdistan Freedom Hawks), a hardline offshoot of the militant PKK
More than 100 people died outside Ankara railway station in October 2015. Militants from IS were blamed for the double bombing, a stone's throw from the headquarters of the national intelligence organisation
Until recently, the bloodshed was largely confined to the mainly Kurdish areas of the east and south-east, where the Turkish military has battled the militant Kurdistan Workers' Party (PKK) for decades.
Violence in the main cities tended to target party offices, particularly those of the left-wing and pro-Kurdish HDP (Peoples' Democratic Party). The banned Marxist DKHP-C has periodically carried out attacks on police and Western embassies.
Turkey is no longer the safe destination that made it one of the world's biggest tourist draws.
France has urged its citizens to exercise great vigilance in tourist areas and the UK has warned that "further attacks could be indiscriminate and could affect places visited by foreigners". . The US gives similar advice.
Turks themselves have become afraid of going to shopping centres and open spaces.
"I think we are seeing a downward spiral towards more violence," warns Prof Menderes Cinar of Baskent University in Ankara.
---
Turkey's tensions: Read more
---
Why has security worsened in Turkey?
Turkey has become embroiled in a conflict on two fronts, inside Turkey and across its Syrian border.
In 2014, Turkey agreed to take part in the US-led operation against so-called Islamic State, and IS sees it as part of a Nato alliance carrying out air strikes on its Syrian and Iraqi bases.
The government in Ankara has for decades fought an internal war with the PKK (Kurdistan Workers' Party). For two years a ceasefire kept a lid on skirmishes between Turkey and the Kurdish militants, seen as a terrorist group domestically and by much of the West.
But that ceasefire came to an end in July 2015, after a bombing that killed 32 young Kurdish and left-wing activists in the south-eastern city of Suruc.
Profile: Kurdistan Workers' Party - Turkey's decades of armed struggle
Those targeted, apparently by an IS bomber, were planning to travel into northern Syria to help rebuild Kobane, a town devastated by IS militants. It was a clear sign that the Syrian conflict had reached Turkey.
A wave of militant attacks and military counter-attacks began, as the PKK accused Turkey of wanting IS fighters to succeed in an attempt to put a stop to Kurdish territorial gains in Syria and Iraq.
Turkey imposed curfews on towns and cities in the south-east for months this year as it hunted for Kurdish militants.
Turkey and the PKK appear to be back where they were before the 2013 truce began.
PKK leader Cemil Bayik has accused President Erdogan of "protecting IS" to stop Kurds advancing against the jihadist group. And in a BBC interview in April he made clear that he saw attacks on civilians as wrong. "There can be actions taken against soldiers; it's a war and they're also fighting," he said.
---
But why are the main cities coming under attack?
The latest apparent IS attack, on Ataturk airport, is a deadly reminder of the Brussels airport bombing in March. It provides an attractive target involving large numbers of Turks and foreigners.
Until now, the PKK carried out much of the violence against government and military targets in the south-east. But its offshoot, the Kurdistan Freedom Hawks (TAK), is more hardline and its attacks have become more deadly and more focused on Ankara and Istanbul.
The TAK had been quiet for a few years but renewed conflict in the south-east because of the failed ceasefire has revived the group, says BBC Turkey correspondent Mark Lowen.
Turkey's government does not differentiate between the PKK and its hardline offshoot, arguing that there is a crossover of personnel. The March bombing in the centre of Ankara lends that theory credence as the government says the bomber joined the PKK and was trained over the border in Syria.
---
Why is the Syrian conflict to blame?
Turkey has long been caught up in the Syrian conflict, and its leader Recep Tayyip Erdogan was among the first to champion rebel opposition groups and call openly for President Bashar al-Assad's removal.
But Turkey has become increasingly concerned about attempts by Kurdish groups to mark out areas of northern Syria under their own control. It fears the rise of the Syrian Kurdish Popular Protection Units (YPG) militia as well as its political arm, the Democratic Union Party (PYD).
"Turkey is feeling a very serious existential threat from the PYD and PKK," says Burhanettin Duran, executive director of Turkey's pro-government Seta research institute. "It's a very solid fact that the PYD and the PKK are the same."
In 2014, three autonomous administrations were declared. Then the YPG beat back IS from the Turkish border in 2015 and established control over a stretch along the border estimated at up to 400km (250 miles) in length.
When Russia intervened in the Syrian conflict in September 2015, the Syrian Kurds found common cause with the advancing Syrian army and its Russian allies and made territorial gains north of Aleppo. Now Syria's Kurds have declared their own federal system.
Kurdish groups now control most of the Syrian border with Turkey, with only a 100km (60-mile) stretch remaining from Azaz to the IS-held town of Jarablus.
"The state is very suspicious of Kurdish activities on our border, which are against our national interest," says Turkish political commentator Fehmi Koru.
Part of the problem for Turkey, a Nato member, is that while the US sees the PKK as a terrorist group, it backs the Kurdish YPG over the border in Syria.
Tears and destruction amid Turkey's PKK crackdown
Syrians in Turkey: 'We just want a normal life'