Dublin: Father and son found at stream were Seán Sweeney and Tyler Joyce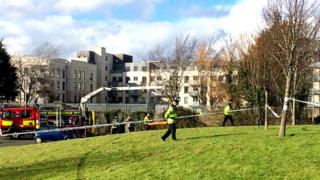 Police believe that a father and his young son whose bodies were found in a Dublin stream may have fallen into the water on Saturday night.
The bodies of Sean Sweeney, who was in his 30s and his son, Tyler Joyce 3, were found in a small amount of water in a stream behind the Ashington housing estate on Sunday afternoon.
It is understood the deaths are being treated as an accident.
The pair may have fallen from a height into the water.
Mr Sweeney and his son had been been visiting relatives in the Ashington estate at the weekend.