Independent TDs call for talks between Fianna Fáil and Fine Gael this weekend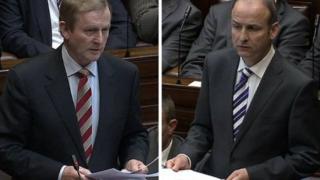 Independent TDs (members of the Irish parliament) have called on the leaders of Fine Gael and Fianna Fáil to meet at the weekend, RTE reports.
Acting Taoiseach (prime minister), Enda Kenny, said he had already requested talks with Fianna Fáil leader Micheál Martin.
But Mr Martin said he would not meet until after the upcoming vote on nominations for taoiseach.
The vote is due to take place on Wednesday 6 April.
TDs have already voted once for a new leader, but no one received enough votes to take up the post.
The nominations for taoiseach were Fianna Fáil's Micheál Martin, Sinn Féin's Gerry Adams and People Before Profit's Richard Boyd Barrett.
Fine Gael members are to meet with independents at Government Buildings to continue government formation talks on Friday.
Minister for Finance Michael Noonan will also be involved in the talks.
Minority government
They will then meet again on Monday and Tuesday to discuss a document on the proposals.
Fianna Fáil is holding its own round-table talks with independents at the beginning of next week.
On Thursday Mr Martin told a press conference he wants to lead a minority Fianna Fáil government.
He would not comment on whether he would support a Fine Gael minority government.
He also said that water charges was a key policy for his party and not one it will pull back on.
He said those who have not paid their charges should pay them.