Man jailed for County Meath killing over suspected affair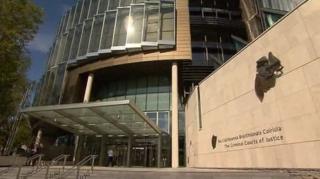 A man who killed a man he suspected of having an affair with his wife has been jailed for nine years.
Shahzad Hussain, 35, who lived at Woodland Avenue, Mosney, County Meath, stabbed his wife and her cousin at an apartment in Drogheda in January 2011.
Muhammad Arif, who was 32 and worked as a security guard for Tesco, died from his injuries.
Hussain was previously convicted of murder but this was quashed on appeal and he pleaded guilty to manslaughter.
Arranged marriage
Hussain married Rashida Bibi Haider in 2004 but it was an arranged marriage and they were apart until he came to Ireland from Pakistan to live with her six years later in 2010.
They stayed with her cousin, his distant relative, Mr Arif, at his apartment in Drogheda but within months the marriage was over.
Hussain moved out, but came back on the afternoon of 6 January 2011, waited outside the apartment and succeeded in getting in.
He suspected his wife was having an affair with her cousin, a claim she strenuously denied.
However, Hussain attacked her in the kitchen that day.
Fatal wounding
When Mr Arif came to her aid Hussain stabbed him in the abdomen, fatally wounding him before turning and stabbing his wife twice and trying to cut her throat.
His wife recovered from her injuries but Mr Arif later died in hospital and Hussain subsequently turned himself in to the gardaí (Irish police).
He was sentenced to life in prison for murder, but the conviction was overturned and when the case came for a retrial, he pleaded guilty to manslaughter.