Spanish ambassador to Belgium removed amid 'absenteeism' claim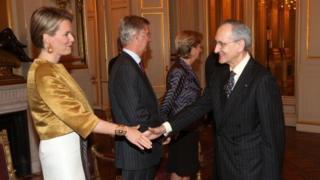 The Spanish ambassador to Belgium has been removed from his post amid claims he was often absent from work and "abused" his position.
No official reason was given for Ignacio Jesus Matellanes Martinez's removal.
However, an official report seen by one news agency said his "absenteeism and unwillingness to work" had led to the embassy being "paralysed".
Mr Matellanes has not made any comment on the claims.
A foreign ministry spokesperson told Europa Press that the inspection service reports were confidential and declined to make further comment.
An official investigation by the foreign ministry seen by the Spanish Europa Press news agency said there were "very serious faults" in the embassy's workings.
It said that the embassy "does not seem to be fulfilling its essential functions,... a situation attributable to the style of management of the head of mission [Mr Matellanes]".
It went on to say the climate in the embassy was one of "mistrust, lack of communication and tension", with Mr Matellanes allegedly exerting his authority through "fear, threats and confrontation".
This had apparently led to a higher than usual number of personnel seeking sick leave for depression.
An unnamed source at the embassy told the Guardian newspaper: "He hardly ever came to work and when he did he'd go to Mass from 11am till 12 on a working day."