Pope urged to end Catholic Church's 'just war' teachings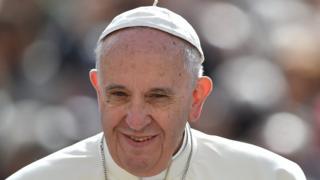 Members of a Vatican conference have called on Pope Francis to renounce the Catholic Church's "just war" theory and develop a new doctrine of "just peace".
The event, hosted by Catholic peace groups, said the long-held theory had too often been used to "endorse rather than prevent or limit war".
"We need a new framework that is consistent with Gospel nonviolence," members said in a final communique.
The Church says "just wars" are allowed as long as certain conditions are met.
Those conditions include ensuring that all other peaceful means have been exhausted and that the force is appropriate and will not lead to worse violence.
The three-day conference was sponsored by the Vatican's justice and peace office and Pax Cristi International, the Catholic peace movement.
It was opened with a greeting from Pope Francis, who said the abolition of war was the "ultimate and most deeply worthy goal of human beings".
But although the Pope - along with his three predecessors - has regularly condemned wars and promoted peace, he has backed military action against the Islamic State group and previously said it was "licit to stop the unjust aggressor".
Marie Dennis, a co-president of Pax Christi International, said the conference had agreed that violent aggressors should be stopped.
"The question is how, " she went on.
"Our belief would be that as long as we keep saying we can do it with military force, we will not invest the creative energy, the deep thinking, the financial and human resources in creating or identifying the alternatives that actually could make a difference."
"Just War" theory is a doctrine that is followed not just by the Catholic Church, but also by other religions, ethicists, policy makers and military leaders.
A "just war" must satisfy six conditions:
The war must be for a just cause
The war must be lawfully declared by a lawful authority
The intention behind the war must be good
All other ways of resolving the problem should have been tried first
There must be a reasonable chance of success
The means used must be in proportion to the end that the war seeks to achieve
To fight a "just war", involves using means that are appropriate, innocent people and non-combatants should not be harmed, and internationally agreed conventions regulating war must be obeyed.