Los Cristianos: Tenerife building collapse death toll rises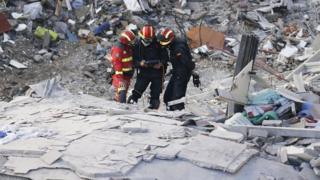 Six people have now been confirmed dead after a four-storey apartment building collapsed on the popular Spanish island of Tenerife.
The victims, four women and two men, are yet to be identified. Another person remains missing, local authorities said.
Three people were injured in Thursday's collapse in Los Cristianos.
It is not known yet what caused it but residents said they heard a large explosion shortly before the incident.
Among the dead are two Spaniards, two Italians, one Moroccan and one Finnish national, according to the EFE news agency,
Tenerife is the largest of Spain's Canary Islands and is a big draw for British holidaymakers.