Dublin: Power restored to thousands after fire at electrical substation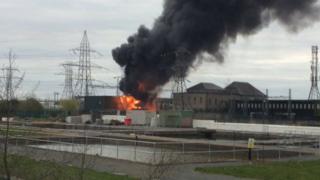 At least 14,000 homes in the Republic of Ireland lost power after a fire at an electrical substation in Dublin.
The fire broke out at the substation on Bluebell Avenue at about 19:25 local time on Sunday. It was extinguished just before midnight.
The Electricity Supply Board (ESB) said a transformer fault had caused the fire.
The gardaí (Irish police) had advised people near the fire to stay indoors and keep windows and doors shut.