Irish election: Micheál Martin 'will back minority Fine Gael government'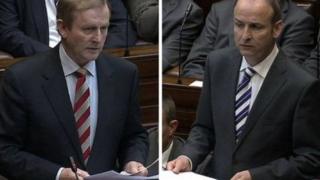 The leader of Fianna Fáil, Micheál Martin, has said that if another election is to be avoided, his party will support a minority Fine Gael government.
Mr Martin added that although Fianna Fáil would facilitate, they would not sign up to a programme of government.
He said that understandings would be given but did not make it clear if these would be written or not.
FF campaigned against the outgoing Fine Gael government in the recent election.
Talks between the Republic of Ireland's two main political parties on forming a minority government will continue today.
Talks on Friday were described by both parties as "constructive".
Following February's election, Fine Gael had 50 seats, Fianna Fáil 44, Sinn Féin 23 and the Labour Party got seven.
But no party was able to form a majority government and TDs have failed to elect a leader on three previous occasions.