Garda Representative Association: Call to arm Irish police with stun guns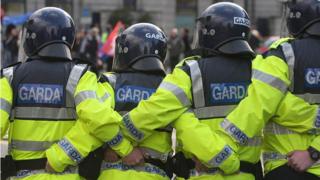 Irish police officers should be issued with stun guns, according to the Garda Representative Association (GRA), which represents rank and file officers.
GRA president Dermot O'Brien told Irish broadcaster RTÉ that the force's unarmed status was envied but he added that society was becoming more dangerous.
Ahead of the GRA annual conference on Monday, Mr O'Brien said officers needed an "intermediate form of force" such as a stun gun.
He also said they were angry about pay.
The GRA president said his members had taken a 25% pay cut since 2009 and he called for their salaries to be restored by the next government.
The GRA is the largest professional body to represent members of An Garda Síochána (Irish police force) and campaigns for better pay and working conditions.
Its membership currently stands at about 10,500 officers.