Water charges dominate latest Irish taoiseach talks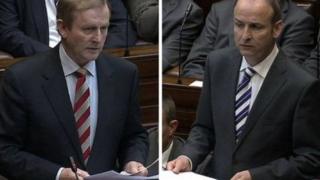 Negotiators from Ireland's two biggest parties are to meet for a final effort to form a minority government.
Acting Taoiseach Enda Kenny of Fine Gael and Micheál Martin of Fianna Fáil hope to avoid a second election.
Mr Martin has said his party will facilitate a minority government, but will not support a programme for government.
Water charges are one of the main sticking points to reaching agreement.
A commission to consider the future of national water utility Irish Water is one of the proposals being considered.
Fianna Fáil want to see the immediate removal of water charges, but Fine Gael see a role for them.
Following the election, almost two months ago, Fine Gael had 50 seats, Fianna Fáil 44, Sinn Féin 23 and the Labour Party got seven.
But no party was able to form a majority government and TDs have so far failed to elect a taoiseach.