Belgium puts Verviers terror cell suspects on trial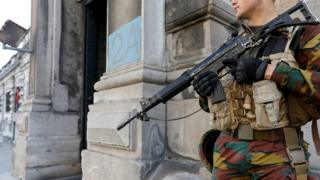 Seven people have gone on trial in Belgium, accused of being part of a group linked to Islamist militants who attacked Paris and Brussels.
Police broke up the cell when they raided a house in Verviers in eastern Belgium in January 2015.
Although 16 suspects have been charged in connection with the cell, nine of them are on the run.
Prosecutors believe the group was run by Abdelhamid Abaaoud, a ringleader of the 13 November attacks in Paris.
He was killed in a shootout in Paris days after the gun and bomb attacks in which 130 people were murdered.
Among those appearing in court on Monday was Marouane El Bali, 26, arrested in the police raid in Verviers on 15 January last year in which two other suspects were killed. Mr El Bali's lawyer said on Monday his client was innocent and had been "in the wrong place at the wrong time".
Security was tight for the court appearance, which began in Brussels in Monday morning.
Armed police and soldiers stood guard as the seven defendants were shown into court. They were released from handcuffs and spoke to confirm their names and ages.
Lawyers for two of the suspects complained that they had been unable to speak to them recently because of a strike in Belgian jails. The day's session ended mid-way through Monday afternoon, because of a separate dispute involving security guards who have refused to work overtime.
The raid on the house in Verviers triggered a fierce gun battle between police and those inside. Prosecutors said the group had returned from fighting in Syria and were poised to carry out an attack. A cache of explosives and weapons was found in the building, police said.
Belgium-France terror attacks timeline
7 Jan 2015: Brothers Cherif and Said Kouachi murder 12 people in attack on Paris offices of satirical magazine Charlie Hebdo
9 Jan 2015: Amedy Coulibaly kills four Jewish customers and workers at supermarket in Paris. A day earlier he had shot dead a policewoman in Montrouge
15 Jan 2015: Belgian police storm suspected jihadist cell in Verviers, killing two people and arresting a third
13 Nov 2015: Co-ordinated suicide bombings and shootings in Paris leave 130 people dead
18 Nov 2015: Suspected ringleader of Paris attacks, Abdelhamid Abaaoud, is among three people killed in raid on a flat in Paris suburb of Saint Denis
22 March 2016: Two bombs at Brussels airport and another on the Brussels Metro kill 32 people
Paris and Brussels bombers' links uncovered
Two suspects killed in the Verviers raid, Sofiane Amghar and Khalid Ben Larbi, had reportedly travelled to Syria in 2014 to join so-called Islamic State.
The raid came a week after jihadists attacked the offices of satirical magazine Charlie Hebdo in Paris, killing 12 people.
Belgian prosecutors say the cell had been planning an attack on police but a French special operations commander told media recently that they had intended to kidnap and murder a high-ranking Belgian official.
Police believe Abdelhamid Abaaoud had been directing the Verviers cell by telephone from Greece.
Four of those appearing in court on Monday - Marouane El Bali, Souhaib El Abdi, Mohamed Arshad and Omar Damache - have been held in custody. The other three have been on bail.
Omar Damache was arrested in Athens last year.
The four in custody are charged with forming a terror organisation. Marouane El Bali is also accused of attempted murder in connection with the police raid. However, his lawyer, Didier De Quevy, said his client had no criminal links with the other accused.
Mr El Bali is from the Molenbeek district of Brussels, as were Abdelhamid Abaaoud and the two men killed in the Verviers raid.
The trial is expected to last for three weeks.