Eddie Hutch Snr death: Two men arrested over 'gun feud' murder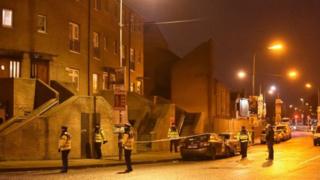 Two men, aged in their 20s and 30s, have been arrested by police investigating the murder of Eddie Hutch Snr in Dublin.
Hutch Snr, 59, was killed at his flat in Poplar Row, North Strand, in the north inner city on 8 February.
Police believe it may have been in reprisal for a fatal shooting at a boxing match weigh-in days earlier.
RTÉ reports that the men can be detained for up to seven days.
They were arrested in the Dublin area and are being held at Mountjoy Garda Station and Bridewell Garda Station.
Mr Hutch Snr was the uncle of Gary Hutch who was shot dead in Spain in September of last year.
He was also the brother of Gerry Hutch, a notorious criminal in Dublin in the late 1980s and 1990s, who was nicknamed the Monk.