Star Wars: Faking the Force in west Kerry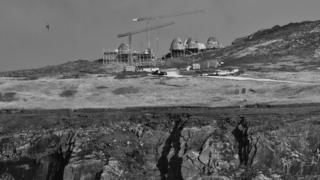 An Irish journalist has excited Star Wars fans after posting pictures on Twitter apparently showing 'TIE Fighters' in the skies of west Kerry.
However, in what is sure to be a disappointment for fans, Seán Mac an tSíthigh has confirmed to the BBC that it was "just a bit of fun" and not a very elaborate set as some may have hoped.
He said the presence of Luke Skywalker has County Kerry "feeling the Force".
What is understood to be a Jedi Temple has been under construction for over two months at Ceann Sibéal on the Dingle peninsula.
It is a replica of the sixth century monastic site on Skellig Michael which had featured in Star Wars Episode VII, released in December 2015.
There is tight security over Ceann Sibéal with a no fly zone being enforced by the Irish Aviation Authority as filming is expected to get under way.
Cork Airport got into the spirit as the cast and crew landed there on Monday, having completed filming at Malin Head in Donegal, mocking up a few pictures of their own.
Their Twitter account proudly shows the iconic Millennium Falcon having just arrived.
More worrying for Cork residents perhaps was a pair of menacing Imperial Walkers on the runway, which the airport blamed for flight delays.
These photographs are just the latest in a long tradition of posting pictures and video of Star Wars spaceships and equipment here on planet Earth,.
Among the most elaborate being footage produced in 2014 supposedly showing Frankfurt Airport in Germany being transformed into an Imperial space port.
That video has attracted over 10 million views on Youtube.