EU referendum: Key quotes from European figures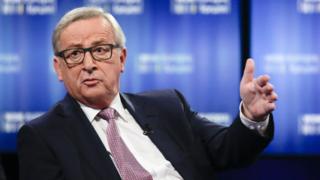 Key quotes from high-profile European figures on Britain's EU referendum between 1 and 25 May, as compiled by BBC Monitoring.
EUROPEAN UNION
European Commission President Jean-Claude Juncker
"Deserters will not be welcomed back with open arms."
"If the British should say 'No' - which I hope won't happen - then life in the EU will not go on as before. The United Kingdom will have to accept being regarded as an outsider who won't be mollycoddled. If the British leave Europe, people will have to accept the consequences of that - both we and they. That's not a threat, but our relations will no longer be what they are today." (speaking to the French newspaper Le Monde in an interview, 20 May)
"We need British pragmatism in Europe... [but] those who leave the table can no longer eat at this table... The EU is not a buffet from which you can take what you want. We eat what is put in front of us." (speaking at the Europe Forum event in Berlin, via WDR, 12 May)
EU Council President Donald Tusk
"Boris Johnson crossed the boundaries of a rational discourse, demonstrating political amnesia. In some sense, he illustrated a state of mind and emotions of many Europeans, not only from the UK. In no way, however, can this be an excuse for this dangerous blackout." (speaking in Copenhagen on Boris Johnson's comments saying the EU was an attempt to do what Hitler and Napoleon tried to do by different methods, via EU Observer, 17 May)
GERMANY
Chancellor Angela Merkel (via source)
"[The referendum] was a completely unnecessary risk that comes as a result of party politics rather than actual concern for Britain's best interests. [It] will make us sweat until the last moment. All eyes will be on Britain in June. Given the huge challenges Europe is facing at the moment, this extra instability is the last thing anyone needs." (Speaking privately and quoted by a German government source in remarks to the Sunday Times, 15 May)
Finance Minister Wolfgang Schaeuble
"In means in and out means out."
"[The EU-British accord signed in February] confirms a special status for the UK and one that demands a lot from EU member states. But in contrast to what some are saying, this is the only deal on the table, there will be no renegotiations. An 'out' vote cannot and will not be used as leverage to get a better deal. If the UK votes in, the deal begins immediately. If it votes out, then the exit process begins."
"I think both the EU and UK are better served with Britain remaining. I say this not only as a life-long European but also as a man used to making pragmatic decisions based on level-headed analyses." (speaking in English at a financial forum in Frankfurt on 13 May, via AFP/The Local, Frankfurter Allgemeine Zeitung)
Foreign Minister Frank-Walter Steinmeier
"If any region in the world is equipped to avoid a loss of control through globalisation, then it is likely to be [the European Union]. So it is not only naive, but also very wrong to delude people into thinking that problems like the terror threat, the crises in our neighbourhood or managing migration can have national solutions. I hope the British who face a choice on 23 June realise that. Loss of control is a threat to those who don't bet on European solutions, but on national self-isolation."
"The moment the United Kingdom leaves, we will go back to having a border between Ireland and Northern Ireland. And that has the potential at least of a seemingly pacified conflict being fanned anew." (speaking at the Europe Forum event in Berlin, via the German foreign ministry, n-tv and Reuters, 12 May)
Manfred Weber, leader of the centre-right European People's Party in the European Parliament
"An exit would damage both sides. But if voters in Great Britain decide to do that, then I respect the will of the voters. That means: Out of the internal market, out of police cooperation, which benefits the British massively through the exchange of data. And: out of the joint security policy."
"Leave means leave and not special rules. We will not be prepared to let the British attach themselves to the internal market without clarity on whether they will accept a share of the financial burden." (via Sueddeutsche Zeitung, 13 May)
Markus Kerber, managing director of the Federation of German Industries (BDI)
"A British exit means uncertainty for German companies doing business in Britain. Firms are reacting to this, they are delaying or reducing their investment." (speaking to Reuters, 13 May)
FRANCE
Finance Minister Michel Sapin
"[Brexit] will be a shock to Europe and a shock for the European economy which is showing signs of recovery."
"It is a fantasy to imagine things would carry on as they are. I can't see how links can be deeper, more fruitful or more trusting if Britain leaves . . . I don't see how Britain could be more influential if Britain is on the outside. From that point of view I don't see a positive outcome." (speaking to the Financial Times (paywall), 12 May)
Nicolas Sarkozy, leader of the opposition centre-right The Republicans
"In several of their criticisms, the British are right. People's disengagement from Europe is a major subject for all countries. I am completely opposed to the United Kingdom's exit from Europe. The worst case would be Brexit and Turkey joining. That would be the grand slam of errors. But Brexit or no Brexit, we will in any case have to reform the European project thoroughly." (Interview with Le Monde, 17 May)
ITALY
Prime Minister Matteo Renzi
"I believe that it would be a real predicament. But in the long term it would be the British, not the Europeans, who suffer the most harm. I hope it will not happen. But first of all I hope so for their sake, rather than ours." (speaking to a meeting of his centre-left Democratic Party, via Il Messaggero, 22 May)
Former Prime Minister Silvio Berlusconi
"It would be a very serious event if our British friends decided to leave Europe. An event that could prompt other countries [to do the same]." (speaking at a meeting of the centre-right European People's Party in Milan, via Il Giornale, 20 May)
Economist Lucrezia Reichlin, London Business School
"Britain is deceiving itself if it thinks it can gain advantages from Brexit. Brexit would create huge uncertainty in the short term, and the uncertainty would weaken an already weak macroeconomic environment."
"Britain has derived huge benefits from immigration, and the migration wave does not come only from the EU, so the problem, if it is a problem, is not only related to the membership in the Union." (Interview with La Repubblica, 22 May)
SPAIN
Catalan regional president Carles Puigdemont
"To be honest I am very worried about the possibility of the UK leaving the EU, but of course like in the case of Catalonia, we have to respect the right of the British people on their relations with Europe, if they are not happy with it. For Europe, it will be an important loss." (Interview with US TV channel CNBC, 13 May)
NETHERLANDS
Dutch Freedom Party Leader Geert Wilders
"Like in the 1940s, once again Britain could help liberate Europe from another totalitarian monster, this time called 'Brussels'. Again, we could be saved by the British."
"If people see that a country can leave, and the lights do not go out, there is no war, and a country does not go bankrupt, but flourishes even. If Britain proves this theory can become a reality, it would have an enormous effect." (Interview with The Sunday Telegraph, 22 May)
AUSTRIA
President-elect Alexander Van der Bellen
"Above all, a Brexit would mean enormous economic damage to the UK." (Interview with the Oesterreich newspaper, 15 May)
"If the UK leaves the EU, that would be bad, but things also cannot continue in this way: having to provide new conditions for a member every two years." (Interview with Die Presse, 18 May)
BBC Monitoring reports and analyses news from TV, radio, web and print media around the world. You can follow BBC Monitoring on Twitter and Facebook.