Polish air disaster: Official convicted over Smolensk crash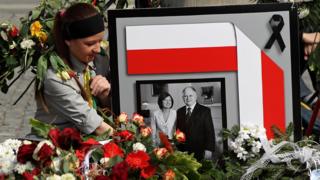 A Polish court has given a suspended jail term to a former security officer over the 2010 air crash that killed President Lech Kaczynski and 95 others.
Former deputy head of government security Pawel Bielawny got an 18-month suspended sentence, a five-year ban from public office and a 10,000-zloty (£1,747; $2,576) fine.
He was found guilty of negligence in connection with the flight. Kaczynski's jet crashed near Smolensk in Russia.
Other top Polish officials also died.
The Warsaw district court's verdict on Tuesday marks the first time that a prison term has been handed down over the Smolensk disaster.
Kaczynski's twin brother Jaroslaw heads Poland's governing Law and Justice party (PiS), which promotes conservative Catholic values and a nationalist agenda.
The court found that Bielawny had failed to conduct a proper risk assessment for the president's visit and had made mistakes in his choice of security personnel for the trip.
The crash happened as the delegation was heading for a memorial ceremony at Katyn, scene of a Soviet massacre of Polish officers in 1940.
---
Accident or assassination? Adam Easton, BBC News, Warsaw
Roughly a quarter to a third of Poles believe that President Lech Kaczynski was killed as a result of an assassination, according to the CBOS polling company, which has asked people seven times between 2012 and 2015.
The highest number of believers in the assassination attempt, 33%, came in early 2013.
The company did not ask who might have been responsible. However, probably the most commonly held conspiracy theory is that the Kremlin was involved, because the plane crashed in Russia.
In July 2011, Poland's Committee for Investigation of National Aviation Accidents found that the immediate cause of the crash was the inadequately trained crew flying too low and too fast in heavy fog. Errors by Russian air traffic controllers were also partly to blame.
Poland's Defence Minister Antoni Macierewicz, a close ally of the late president's twin brother, Jaroslaw Kaczynski, who heads the governing PiS party, has regularly stated publicly that an explosion caused the flight to crash.
He has launched a new investigation; 23% of Poles asked by CBOS in April this year believed it would uncover different causes for the disaster.
---
Smolensk tragedy
On 10 April 2010, 96 Poles were killed when the Tupolev plane they were travelling in went down in thick fog, short of the runway near Smolensk in western Russia.
Separate investigations ruled out any kind of plot, blaming the conditions and poorly-trained pilots. Leaked transcripts also indicated the pilots had come under pressure from people on board.
Among those who died were:
President Lech Kaczynski and wife Maria
Wladyslaw Stasiak: Chief of the president's chancellery
Aleksander Szczyglo: Chief of the National Security Office
Slawomir Skrzypek: National Bank of Poland chairman
Jerzy Szmajdzinski: Deputy speaker of the lower house
Andrzej Kremer: Foreign Ministry's undersecretary of state
Stanislaw Komorowski: Deputy minister of national defence
Przemyslaw Gosiewski: Law and Justice party deputy chair;
Franciszek Gagor: Chief of the General Staff
Andrzej Przewoznik: Head of Poland's Council for the Protection of Struggle and Martyrdom Sites
Tomasz Merta: Chief historical conservator
---