Brexit: Irish meeting on 'market diversification' strategy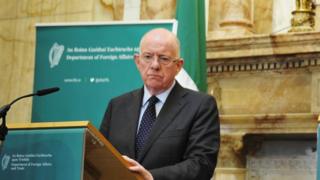 The Irish government is to hold talks on "market diversification" in a bid to protect its economy following the UK's vote to leave the European Union.
Foreign Affairs and Trade Minister Charlie Flanagan will convene a meeting of the Export Trade Council later.
Several government ministers are due to attend along with representatives from export firms and state agencies.
Mr Flanagan said he hoped to identify the challenges and opportunities facing Irish trade after the Brexit vote.
'Vitally important'
It is the first time the council has met since the UK voted to leave the EU in last month's referendum.
The British Irish Chamber of Commerce has also been invited to attend.
In a statement on Tuesday night, Mr Flanagan said: "Ireland's significant trading relationship with the UK - worth over 1bn euros (£840m) per week - is of vital importance.
He added: "Although the economic relationship between Ireland and the UK will remain vitally important to us and to our future prosperity, the council has in previous discussions identified market diversification as a key factor in mitigating any risks to our economy.
"I look forward to a fruitful discussion expanding on this theme and informing how Ireland can best respond in the current economic landscape."