Dubai crash-landing: Four Irish citizens on board plane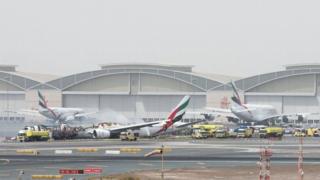 Four Irish citizens were among the 300 people on board a passenger plane that crash-landed at Dubai International Airport, Emirates airline has said.
Images show the aircraft on fire, but no injuries were reported and all passengers left the plane safely, according to the Dubai government.
The Emirates plane was flying from the Indian city of Trivandrum to Dubai.
The airline has released a list of the nationalities of all 282 passengers and 18 crew.
The list was accompanied by a statement that said: "We can confirm that there are no fatalities among our passengers and crew.
"All passengers and crew are accounted for and safe."
The vast majority are from India, with 226 Indian citizens on board.
Twenty-four people are from the UK.
Amateur footage of the incident showed thick black smoke coming from the Boeing 777 plane.
The cause of the crash-landing is not yet known, but no landing gear is visible in images posted online.