Denis Donaldson: Man arrested in Donegal released without charge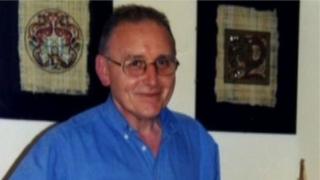 A man in his 40s, arrested in connection with the murder of a former Sinn Féin official and republican informer, has been released without charge.
Denis Donaldson was murdered in County Donegal in April 2006, months after being exposed as an agent who worked for the police and MI5 for 20 years.
He was once a key figure in Sinn Féin's rise in Northern Ireland politics.
The man was arrested at Cloghercor in Doochary, County Donegal, on Thursday.
Irish police said a file would be sent to the Director of Public Prosecutions.
Last month, 74-year-old man appeared in court in Dublin accused of withholding information about Mr Donaldson's murder.
Mr Donaldson, 55, was shot dead at an isolated cottage near Glenties.
His family took legal action against officials in the Republic of Ireland in April after an inquest into his death was adjourned for the 19th time.