Greece boat crash: Four dead including child off Aegina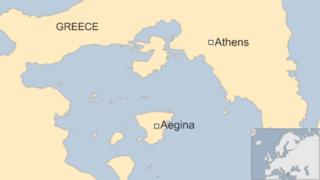 Four people - including a nine-year-old child - have been killed in an accident in the Aegean sea near Athens, according to the Greek coastguard.
Three men also died, and four people were injured.
The accident happened when a tourist boat and a speedboat collided off the island of Aegina.
Private vessels are said to be helping the coastguard rescue survivors, 21 of whom have been pulled from the water so far.
Aegina Mayor Dimitris Mourtzis has been quoted as saying others remain missing.
The tourist boat was said to have been carrying about 20 people from Aegina to a popular cove on Moni, an uninhabited small island very nearby.
It is so far unclear how the accident happened. The nationalities of the victims have also not yet been given.