French election 2017: Who are the candidates?
25 February 2017

From the section

Europe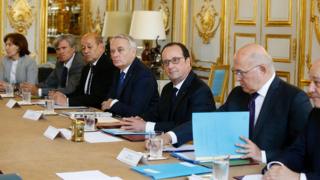 Dozens of candidates are vying for the attention of French voters ahead of the presidential election on 23 April 2017.
If none wins an outright majority, there will be a run-off vote between the two leading candidates two weeks later on 7 May.
The campaign of centre-right Republicans candidate Francois Fillon has been overshadowed by persistent media claims of financial wrongdoing, centred on payments of public money made to his wife.
Mr Fillon, the early favourite, is now vying for the second spot in opinion polls with centrist Emmanuel Macron, whose campaign has been boosted by the decision not to stand of Francois Bayrou.
Several percentage points in the lead is Marine Le Pen of the far-right National Front (FN).
President Francois Hollande, a Socialist, is not seeking a second term. Polls suggest he is very unpopular.
---
Francois Fillon, The Republicans
Mr Fillon, 62, projected a calm, statesman-like image in three TV debates which laid the groundwork for his convincing defeat of his controversy-dogged rivals Nicolas Sarkozy and Alain Juppe.
Yet since his victory his campaign has been anything but calm and statesman-like - instead rocked by a series of claims in the media, beginning with reports that his wife was paid for parliamentary work she did not carry out.
But Mr Fillon has refused to step aside for another candidate, saying there is no clear (and squeaky-clean) alternative figure for the job and that to do so would be irresponsible.
And polls do not rule out a possible Fillon victory.
Mr Fillon's radical plans for economic belt-tightening include cutting half a million public sector jobs, scrapping the 35-hour work week and remove the wealth tax (ISF), prompting comparisons to the late British prime minister Margaret Thatcher.
He wants to strip jihadists returning from the wars in Iraq or Syria of their French nationality and require parents in receipt of social allowances to agree to a "parental responsibility contract", to tackle children's absenteeism or behaviour "disrespectful of the values of the [French] republic".
On foreign policy, Mr Fillon wants to engage with Russia by lifting EU sanctions and help Syrian President Bashar al-Assad to defeat so-called Islamic State (IS).
Mr Fillon studied law and married his Welsh wife, Penelope Clarke, in 1980 in Llanover, near Abergavenny. They have five children and their home is a 12th-Century manor house near Le Mans in western France.
France's Francois Fillon under fire over women's rights
Francois Fillon mixes French sang-froid and radicalism
---
Benoit Hamon, Socialist Party
Former Education Minister Benoit Hamon been called the "French Bernie Sanders". The left-wing rebel shot to prominence after his decisive win in the first round of France's Socialist party primary, beating the favourite Manuel Valls.
With his designer stubble and cheeky grin, the 49-year-old has been grabbing more than his share of the limelight over the past few weeks.
The most left-leaning of the seven initial candidates in the Socialist race, his programme has been built around the radical proposal of a universal monthly payment for all French citizens, regardless of income. He also wants to legalise cannabis, to tax the wealth created by robots and to ditch the labour law passed last year that made it easier to hire and fire.
The income plan he has outlined would be put into effect in three stages.
First, the current minimum welfare payment for France's poorest would be increased by 10% to €600 (£515; $640) a month
The payments would then be extended to all those from 18-25 years old
Finally the programme would be rolled out to all French citizens sometime after 2022, with the monthly payment increased to €750 a month
Critics have pilloried the plan as unworkable, estimating its cost at between €300-€400bn.
Mr Hamon's partner is Gabrielle Guallar and the couple have two daughters.
Benoit Hamon to be Socialist candidate in French election
---
Marine Le Pen, National Front (FN)
Marine Le Pen has striven to detoxify the image of the National Front (FN) since taking over its leadership from her father in January 2011. The last time it was tested electorally - in regional elections in late 2015 - it came top in the first round. But it failed to win any region in the second round after the two main parties collaborated and voters used their ballots tactically to keep the party out.
Despite that defeat, the party still gained hundreds of regional councillors across France, and Ms Le Pen used the result as a springboard for the presidential campaign. Polls now regularly place her second.
The FN's proposals included slashing legal immigration from 200,000 to 10,000 entries per year, deporting illegal immigrants, prioritising French citizens for jobs and housing, holding a referendum on exiting the EU and euro, upping police numbers and powers, and creating 40,000 new prison places.
The youngest of Jean-Marie Le Pen's three daughters, she was steeped in politics from a young age. She trained as a lawyer and went on to become head of the FN's legal department.
After years of fighting and losing French parliamentary elections, she was elected to the European Parliament in 2004 and remains an MEP, representing North-West France.
After taking over leadership from her father in 2011, she distanced herself from him politically. She denounced him for suggesting that the Nazi gas chambers were "a detail of history". She came third in presidential polls in 2012.
Marine Le Pen is twice divorced with three children, and lives in the western suburbs of Paris.
What makes Marine Le Pen far right?
Le Pen rails against globalisation
---
Emmanuel Macron, En Marche (Onwards)
A brilliant student who went on to become an investment banker, Emmanuel Macron worked as economic adviser to President Francois Hollande before taking up the post of economy minister in 2014. He has never been elected an MP - and has never even stood for election.
And at 38, he is among the youngest candidates.
He forged a reputation with his "Macron Law", a controversial reform bill that allowed shops to open more often on Sundays and deregulated some sectors of industry.
The law was forced through by Prime Minister Manuel Valls despite strong left-wing opposition. But for much of France's business community Mr Macron became a breath of fresh air, with a list of pro-business policies aimed at boosting economic growth. He has championed digital start-ups and prompted a long-distance bus market.
For years a protege of President Hollande, his position in government became increasingly awkward in April 2016 when he set up En Marche, which he describes as "neither left nor right" and now counts almost 97,000 people as followers. He resigned on 30 August in order to launch his presidential bid.
Announcing his candidacy, Mr Macron described France as "blocked by corporatism" (large interest groups). "I want to free the energy of the able while protecting the weakest," he said. He is an economic liberal and pro-business, who has backed ending France's 35-hour week for younger workers, but is on the left on social issues. He has backed deregulation in certain French industries and greater checks on politicians' powers.
Mr Macron is married to his former French teacher Brigitte Trogneux, 20 years his senior, and has seven step-grandchildren.
Emmanuel Macron: France's ambitious man 'on the move'
France's Macron joins presidential race to 'unblock France'
---
Jean-Luc Melenchon, Parti de Gauche (Left Party)
With the centre-left experiencing a meltdown in popular support, firebrand Jean-Luc Melenchon senses a possible opening in the race.
Last month, he received the backing of France's Communist Party for his candidacy, giving him extra organisational muscle and resources.
Mr Melenchon says the means of production, trade and consumption must be changed, and cites climate change as one of his concerns.
He said: "This is a tremendous opportunity to loose the bonds that paralyse us today."
The former supporter of European federalism now calls for France to leave European treaties, saying the EU's economic liberalism has sapped its ability to deliver democratic change.
He left the Socialist Party in November 2008 to found the Left Party with French deputy Marc Dolez. He joined the Left Front electoral federation and got elected to the European Parliament in 2009, where he still serves.
Mr Melenchon made an unsuccessful bid for the French presidency in 2012. He received 11% of the votes, putting him in fourth place.
Jean-Luc Melenchon announces 2017 France presidency bid
All candidates need to be approved by the Constitutional Council.