Garda Commissioner Nóirín O'Sullivan announces retirement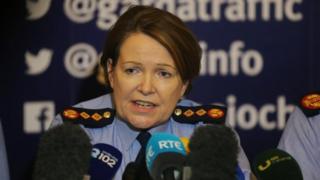 The head of the Irish police, Commissioner Nóirín O'Sullivan, has announced that she is retiring after 36 years.
Ms O'Sullivan notified Taoiseach Leo Varadkar and Justice Minister Charlie Flanagan on Sunday afternoon.
"The support for me to continue in the role is evident," the Garda commissioner said in a statement.
"However, I devoted much of my summer break to considering if continuing would be the right thing to do."
She added: "It has become clear, over the last year, that the core of my job is now about responding to an unending cycle of requests, questions, instructions and public hearings involving various agencies including the Public Accounts Committee, the Justice and Equality Committee, the Policing Authority, and various other inquiries, and dealing with inaccurate commentary surrounding all of these matters."
Ms O'Sullivan said she had considered applying for a top job in Europol but she has decided instead to take some time out with her family.
She had faced several opposition calls to stand down over a number of issues, including her handling of police whistle-blowers and the disclosure that police officers had significantly exaggerated the number of breathalyser tests carried out.
'Best interests'
Taoiseach Leo Varadkar said: "Noirin O'Sullivan has given many years of dedicated service to the state. I want to thank her for that on behalf of the government and the Irish people.
"She has overseen many significant developments in often challenging circumstances, and in recent years took on the challenge of reforming the Gardai.
"As she said in her statement, her decision to retire is made in the best interests of An Garda Siochana and ensuring that it can focus on the extensive programme of reform that is now under way."
The justice minister, Mr Flanagan said that he wanted to acknowledge that Ms O'Sullivan was "faced with particularly significant difficulties, many of which had built up over several decades".
He said she showed "enormous resilience, determination and integrity in addressing those challenges".
However, Sinn Féin deputy leader Mary Lou McDonald welcomed her retirement.
"It has been clear for some time now that Commissioner O'Sullivan's position was untenable but unfortunately the government refused to act to remove her," she said.
"Despite scandal after scandal the government sat on its hands and refused to act, doing untold damage to the public's confidence in An Garda Síochána."
In June, Irish Prime Minister (Taoiseach) Leo Varadkar told the Dail that he and his government had confidence in the Garda commissioner.
Earlier that month, Ms O'Sullivan said she had asked a watchdog to begin investigating alleged financial irregularities at the Irish police force's training facility.