Dublin stabbing: Knife found by police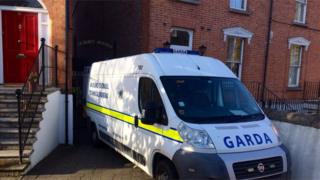 Irish police have recovered what they believe to be the knife used in the stabbing of a woman in Dublin.
The 37-year-old French national was found dead at an apartment complex in the city centre on Tuesday night.
She had suffered several stab wounds and was pronounced dead at the scene in Upper Gardiner Street.
Her 35-year-old Brazilian partner was taken to hospital with serious injuries, and underwent surgery this morning.
Police are treating the death as a domestic incident and are not looking for anyone else at present.
The woman's body has remained at the scene, which has been sealed off.
The victim worked as an account manager for a financial services company in the city.
She had been employed in Dublin for at least the past five years, previously working in the business sector in France.