'Bullying culture' claims hound Sinn Féin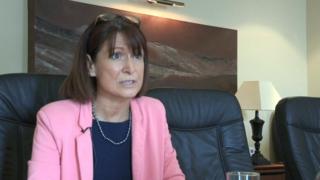 A County Tipperary councillor has become the latest Sinn Féin representative to quit the party in the Republic of Ireland amid claims of a bullying culture.
Seamus Morris said he had resigned after his name had been "blackened by rogue elements in the party".
He also said he had been subjected to "slanderous allegations".
Sinn Féin said it had found not evidence of a smear campaign against Mr Morris.
Later this month, Sinn Féin will hold its Ard Fheis (High Assembly - or annual conference) in Dublin but Mr Morris is one of several former councillors who won't be there.
A number have either resigned or been expelled amid allegations that there is a culture of bullying within the party.
Abuse video
Melissa O'Neill, who described herself as a life-long republican, joined the party in 2012 and was elected a councillor in south Kilkenny in 2014.
The single mother claims she was bullied, excluded, ostracised and felt marginalised from the start.
She was expelled from Sinn Féin after a video recording of her abusing her neighbours went viral.
There were, she said, extenuating circumstances; she had just had a second and then a third diagnosis of cancer, and needed the support of colleagues.
"It was when middle management put out a 'Don't speak to her,'" she said.
"I can't understand how anyone in this country or any human being could treat a person in that manner at a time like that.
"It was a most hurtful, isolating place to be. And the party seemed to thrive on that isolation of psychological abuse."
'Abusive and threatening'
Sorcha O'Neill, a former Sinn Féin councillor in County Kildare, also said she was shunned, bullied, isolated, ostracised and was a victim of abusive e-mails.
She joined the party in 2014 and was elected to the local council within weeks.
She alleged a toxic culture of "mob rule" locally before a candidate was chosen for last year's general election.
She quit the party this year.
"None of the bad behaviours were addressed and there was not even anything said to them," she said.
"And even though I said these people are being abusive to us and threatening us, shouting in our faces, there weren't even any disciplinary procedures.
"When I left I said to them that in no other organisation would that be allowed."
Councillor Gerry O'Neill, in County Wicklow, joined Sinn Féin in 1971 saying that in the 1970s, 80s and 90s he met nothing but honourable people.
He has been involved in the local boxing club and has also been fighting elections since 1985, finally becoming a councillor three years ago.
But he was expelled earlier this year for not attending party pre-council meetings, where people who were not elected as councillors told members how to vote.
While others blame Sinn Féin middle management for the alleged bullying culture, the Wicklow councillor, who wrote to the party's president Gerry Adams about the issue, said responsibility must be taken at a higher level.
"Whether it's some sort of new growing pains or whatever it might be, at the moment it's a complete disaster with total mismanagement," he said.
"You have to blame the leadership, because whoever is driving the bus is in charge of the bus."
Sinn Féin's Limerick-based senator, Paul Gavan, who has a background in the trade union movement, denied the party has turned a blind eye to alleged bullying.
He said there are robust procedures to deal with the issue.
Sinn Féin is no different from any other political party, he said.
"Look, we're a growing party," he said.
"We are human and, from time to time, people fall out with us."
"But, if you look at the individual cases, you'll also see a number of cases where we've chosen to ask people to leave and, when we've done so, there have been very good reasons for doing so."
Those accusing Sinn Féin of tolerating a bullying culture have been meeting among themselves.
Melissa O'Neill said 21 elected representatives from all over the Republic of Ireland had so far come forward.
But none - including Seamus Morris, the latest councillor to part ways with the party - is expected to attend next weekend's Ard Fheis.