Sinn Féin to elect new leader in February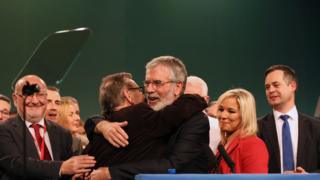 Sinn Féin has announced that a special ard fhéis (party conference) to elect a new party leader will be held before the end of February next year.
It comes after the party's ruling executive meet in Dublin on Saturday.
In November, Sinn Féin's current president Gerry Adams revealed his plans to stand down after 34 years in the post.
The party issued a statement outling that nominations for his replacement would be opened in the New Year.
Sinn Féin has set up a committee to arrange the special conference.
It will be chaired by the party's general secretary Dawn Doyle and chairperson Declan Kearney.
Sinn Féin deputy leader Mary Lou McDonald is the front-runner to replace Mr Adams.
Senior Sinn Féin figures including Michelle O'Neill and Pearse Doherty have ruled themselves out as potential candidates.