'Border Fox' Dessie O'Hare granted bail in Dublin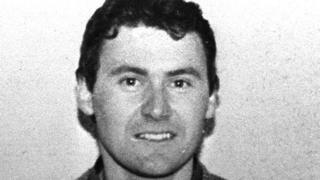 Former INLA man Dessie O'Hare, once known as the "Border Fox", has been granted bail on charges including assault and false imprisonment.
Mr O'Hare, 61, of Slaterock Road, Newtownhamilton, County Armagh, was charged in Dublin last week.
He was held in custody until Monday's hearing at Dublin District Court.
His bail terms state he must reside at his current address, and the Police Service of Northern Ireland and Irish police must be notified of any change.
He also had to surrender his passport, be contactable by phone, abide by a curfew and sign on daily at a Garda (Irish police) station in County Monaghan.
Next appearance
He is charged with threatening to kill or cause serious harm and false imprisonment of a man in Rathcoole, south Dublin, on 9 June 2015, and falsely imprisoning two others members of the same family, a man and a woman, at a house in Garter Lane, in nearby Saggart, on the same date.
He is also charged with engaging in violent disorder and assault, causing harm to another man at the same location.
Mr O'Hare has not yet indicated how he will plead.
Garda Insp Columbanus O'Malley asked for an adjournment to allow time for a book of evidence to be completed and to see if the director of public prosecutions would be granted a certificate for a trial in the non-jury Special Criminal Court.
The judge said that because the accused lived in Northern Ireland and had to travel to Dublin for hearings, it would be better to put the case back.
The case is set to resume at the district court on 19 February.